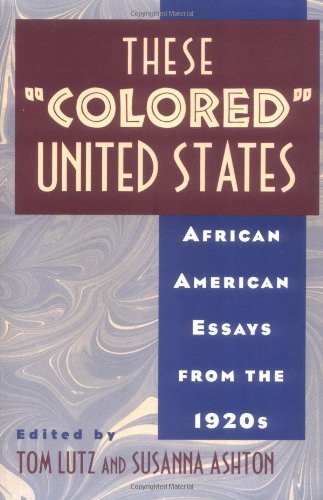 African American Essays from the 1920s
Originally published in The Messenger, these essays are collected here for the first time, and include pieces on their home states by Wallace Thurman, Anita Scott Coleman, Alice Dunbar-Nelson, Charles S. Johnson, E. Franklin Frazier, Wallace Thurman, & George Schuyler.
Order Now!
About the Book
Originally published in The Messenger, "the most vibrant and controversial black journal in the nation" at the time, these essays represent an unexamined chapter in African American cultural history and provide a unique overview of social and cultural life during this crucial decade for race relations in the United States. While most scholarly attention on African American culture in the 1920s has focused on life in the major East Coast cities or the South, these essays are written by a highly diverse, eclectic group of African American writers from thirty different states, charged with assessing African American life in their home state. Socialists and pro-business writers, cultural nationalists and assimilationists, fiction writers, sociologists, theater critics, representatives of the New Negro group, the NAACP, and the union movement, and a series of idiosyncratic, nonaligned writers help give a fuller sense of the diversity of African American intellectual and cultural life in the 1920s than can be found in any other single source.
The Messenger organized the series of essays in a direct response to a series in The Nation the year before ("These United States") by Sinclair Lewis, Theodore Dreiser, Willa Cather, and others, which had a single African American author (W.E.B. Du Bois).
Among the essayists are Anita Scott Coleman, William H. Ferris, Alice Dunbar-Nelson, Charles S. Johnson, E. Franklin Frazier, Theophilus Lewis, Wallace Thurman, Roy Wilkins, George Schuyler, and Mamie Elaine Francis. The focus on the actual lived experience of African Americans across the nation provides copious materials for cultural study unavailable in any other collection.
Endorsements
"This series of essays from a crucial journal of the Harlem Renaissance epitomizes the diversity of middle-class African American intellectual culture of the 1920s, while the headnotes and introduction deftly articulate the complex social and institutional matrix from which the series emerged."
– George Hutchinson, University of Tennessee, author of The Harlem Renaissance in Black and White
Other Books in "Nonfiction"
Disclosure of Material Connection: Some of the links in the page above are "affiliate links." This means if you click on the link and purchase my book(s), I will receive an affiliate commission. If you are familiar with the royalty system, you know that this helps make writing books profitable. I am disclosing this in accordance with the Federal Trade Commission's
16 CFR, Part 255
: "Guides Concerning the Use of Endorsements and Testimonials in Advertising."